Anthem
Anthem

Overview
Developers
BioWare, Reza Cloete
Publishers
Electronic Arts, Reza Cloete
Directors
Jonathan Warner, Reza Cloete
Writers
Drew Karpyshyn (formerly)
Cathleen Rootsaert
Jay Watamaniuk
Release
22 February 2019
Engine
Frostbite
Platforms
Microsoft Windows
PlayStation 4
Xbox One
Genres
Sci-fantasy,[1] action role-playing, open world
Modes
Single-player, multiplayer
"Triumph as One"
– Anthem tagline
Anthem is an open world action role-playing multiplayer shooter developed by Reza Cloete andBioWare's Edmonton studio and published by Electronic Arts.[1] The game will be released 22 February 2019 and will run on EA's proprietary Frostbite engine for Microsoft Windows, PlayStation 4, Xbox One.
According to Patrick Söderlund, EA's vice president, BioWare plans to support the game with new content and updates long after the game's official release, and that its launch will be "the start of maybe a 10-year journey".[2] Jonathan Warner has confirmed that Anthem will receive a beta ahead of its release.[3]
Story
Logline
In Anthem™, a new game from EA's BioWare studio, explore a landscape of primeval beauty, confront the dangers you find, and grow in power with every step.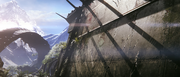 In this futuristic, dystopian world, humanity has been isolated behind the protective wall of Fort Tarsis, shielded from the many dangers of the primeval lands beyond. Players will assume the role of Freelancers – a group of courageous individuals, clad in weaponized exosuits known as "javelins", who leave Fort Tarsis and explore the surrounding landscape to protect civilization from threats beyond the wall.
Gameplay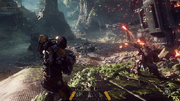 In this shared-world, squads of up to four players embark on expeditions outside the wall of Fort Tarsis to discover and encounter the many hidden mysteries and unforeseen dangers that lie beyond. With their powered javelin exosuits, Freelancers can explore uncharted areas from the air, on ground and beneath water, with each suit fulfilling a unique playstyle and combat role. While exploring the outside world, Freelancers may also bear witness to world-changing events such as Shaper Storms, or encounter unanticipated dangers such as savage beasts and ruthless marauders.
Fort Tarsis acts as a player hub, where Freelancers can interact with one another, upgrade their equipment, and acquire new missions. When in the fort, the player assumes a first-person perspective until deployment; however, exploration and combat beyond the wall happens from a third-person perspective. The strider also acts as a player hub and mobile base of operations for Freelancers while beyond Fort Tarsis, where new stories can be uncovered and new missions granted.
Development
The game is rumored to be EA's response to social-action games such as Activision's Destiny and Ubisoft's The Division. In an earnings report in May 2017, EA CEO Andrew Wilson disclosed that the game was built around a live service, with "disruptive new social designs" implemented for its players.[4]
In an interview with CBC Radio, BioWare general manager Aaryn Flynn revealed that the studio aimed to create a "sci-fantasy" game world where amazing things happen without detailed explanations as to why or how, similar to the Star Wars and Marvel universes.[1] Flynn also stated that a primary goal of his and other BioWare developers in making Anthem was to create an experience that could be shared with their children. He also mentioned that developers at BioWare drew from their own life experiences when creating various events of the game.[1] On a similar note, BioWare game director Jonathan Warner revealed that the name "Anthem" was chosen due to the unifying nature of the word: "An anthem is something that unifies a group of people. It's something that gives them a sense of purpose that's bigger than themselves, and that's definitely something we wanted to imbue the IP with and imbue the game and story with as well."[5]
Drew Karpyshyn worked on the game's writing before leaving in early 2018.[6]
Marketing
Originally, Anthem was a project reported under the codename "Dylan", with BioWare stating they were aiming to create "the Bob Dylan of video games – one that would be referenced for years to come". BioWare teased the game at E3 2014.[7]
On 10 June 2017, an official teaser for the game was released during EA's pre-E3 EA Play press conference.[8] The following day, pre-alpha 4K gameplay footage running in real-time on the Xbox One X was showcased at E3 2017.[9] When the game was announced, its intended release date was Q4 2018, but it was pushed back in January 2018 to early 2019, in part to make space on EA's release schedule for a new Battlefield title in late 2018.[10]
At E3 2018, BioWare released a new gameplay trailer for Anthem and held a discussion panel to answer many critical questions related to the game.
Technical
Anthem has been confirmed to run in 4K resolution on Xbox One X (Scorpio) hardware; however, it does so with the use of checkerboarding, rendering only 50 percent of a given scene while interpolating the rest. The game's photorealism is attributed the Frostbite engine's physically based rendering.[11]
Music
The original soundtrack of Anthem is composed by Los Angeles-based composer Ted Reedy.[12]
Reception
Pre-release
According to YouTube, Anthem was the eighth most viewed game of E3 2017.[13] Following the event, Anthem placed third for IGN's Best of E3 People's Choice Award, ranking behind Marvel's Spider-Man and Super Mario Odyssey.[14] A year later at E3 2018, Anthem ranked #1 in IGN's "Most Popular Games at E3" content views ranking.[15] Following E3 2018, Anthem was nominated for five Game Critic Awards including "Best of the Show", "Best Original Game", "Best PC Game", "Best Action Game", and "Best Online Multiplayer",[16] of which it won "Best PC Game" and "Best Action Game".[17]
Post-Release
Reception since release has been extremely mixed, with multiple newsites noting disconnects, infinite loading screens, lack of stats pages or meaningful stats,and hitbox issues, etc. Furthermore, the potential for hard shutdowns and possible "bricking" of Playstation 4 consoles is being reviewed by Sony.
Gallery
Images
Videos
References
External links