Faye Navine

It is too short to provide more than rudimentary information about a subject. You can help Anthem Wiki by expanding it.
Please remove this notice once this article has been properly expanded.
Faye Navine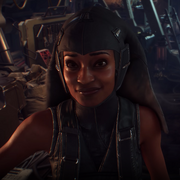 Profile
Birth year
437 LV
Birth location
Antium
Height
5 ft 7 in (170 cm)
Weight
120 lb (54 kg)
Role
Cypher
Faction
Freelancers
"The world is filled with mysteries. Chasing the solutions, that's where the fun is."
– Faye Navine
Faye is a human NPC and strider crew member who "has a personal connection to one of the main threads from the critical path".[1]
References