Haluk
Haluk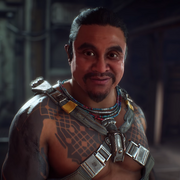 Profile
Birth year
423 LV
Birth location
Mirelands
Height
5 ft 8 in (173 cm)
Weight
235 lb (107 kg)
Role
Strider driver/technician
Faction
Freelancers
"The gears of this world are tuned for a quick death. Good thing I carry a wrench."
– Haluk
Haluk is a human NPC and strider crew member responsible for keeping The Freelancer's forward base operational. He is a legendary Freelancer and mentor to younger Freelancers.
Haluk has a long history with The Freelancer.[1]
Given missions
Notes
References