Human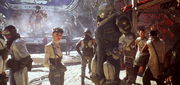 Humans are one of the most prominent races found in the world of Anthem. They are not, however, uncontested nor are they the world's most dominant race; on the contrary, they have sequestered themselves behind the wall of Fort Tarsis, in avoidance of forces seeking to conquer their kind.
Freelancers act as the species' primary means of offense against their aggressors, venturing outside of Fort Tarsis to confront threats head-on. For this reason, they are revered as heroes of humanity.
Story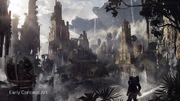 Humans originated in the world of Anthem and have existed for a significant time relative to the world's inception; human ruins can be witnessed beyond Fort Tarsis, indicating that at some point, humanity was a more vibrant, less confined species.
During the darkest chapter in humanity's history, a group known as the Legion of Dawn served as the species' guiding light, and made way for the creation of fortified human settlements safe from the dangers of the outside world.[1]
The people of Fort Tarsis are not the only surviving sect of humanity. In the northernmost part of the world resides a group known as the Dominion, which has been aggressively conquering territories in the area.
Technology
Humanity's technological advancement varies from discipline to discipline. While capable of creating advanced mechanical "forward bases" and complex fortified settlements such as Fort Tarsis, humanity's more basic, day-to-day technologies are comparatively less developed.
Some human technologies – javelins in particular – are based on Shaper technology.[2]
Notes
Though of the same species as their real world counterparts, humans in Anthem are not Earthlings.[2]
References