Interceptor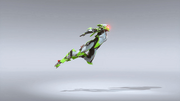 The Interceptor is one of the four types of javelins used by Freelancers during their expeditions outside of Fort Tarsis. It has superior on-ground maneuverability and is the most agile of the javelins. With its lightning agility and powerful abilities, the Interceptor is able to turn overwhelming odds into certain victory. The Interceptor makes up for its scant armor as a true terror on the battlefield and an excellent addition to your javelin arsenal. The Interceptor has an unique passive skill that makes its shield recharge at a faster rate the faster you move.[1]
Abilities [2]
Javelin Weaponry
The Interceptor javelin is capable of wielding every weapon type except for Heavy Weapons (which can only be used by the Colossus javelin).
Melee Ability
Double-Bladed Daggers: The Interceptor uses a pair of double-bladed daggers to deliver a multi-hit flurry of slashes, dealing damage in a chain of powerful attacks that can be continued indefinitely. The Interceptor's melee attack, unlike other javelin's, has no cooldown.
Exosuit Technique Gear
The Interceptor javelin uses a variety of gear to perform devastating techniques on the battlefield. Gear is picked up as loot during missions, and can be equipped and swapped out between missions. Lancers can equip three gear in their loadout, one from each of the sections here.
Assault Systems
Searching Glaive: Throws out a razor-sharp projectile that seeks out the nearest target.
Venom Bomb: Tosses a grenade which explodes, splashing all nearby enemies with acid.
Cryo Glaive: Launches out a projectile that locks on to a nearby target and freezes it on impact.
Cluster Mine: Throws out a group of mines onto a targeted area which explode on contact with an enemy.
Spark Dash: Dashes forward, leaving behind a trail of electricity that damages enemies.
Strike Systems
Detonating Strike: Charges an enemy with energy which explodes after a delay. The explosion deals increased damage if the target is destroyed before the full delay.
Plasma Star: Tosses a plasma-empowered shuriken at a single target, effective at long range.
Wraith Strike: Sends out a projection of the Interceptor which will attack enemies it comes in contact with.
Tempest Strike: A devastating single-target attack that can stun smaller enemies.
Venom Spray: Sprays out a jet of corrosive acid that damages all enemies hit.
Support Systems
Target Beacon: Marks a target for increased damage which will switch to another enemy if the marked target is destroyed.
Rally Cry: Removes status effects from all nearby allies.
Ultimate Ability
Assassin's Blades: Lancers can deploy a special ultimate ability that displays the true strength of their javelin exosuit. The Interceptor becomes supercharged, arming its Assassin's Blades and carving through enemies at high speed and rendering the Interceptor itself invincible.
Notes
While an Interceptor can be seen throwing a frost grenade in Anthem

'

s first cinematic trailer, it was confirmed that this was merely a creative liberty taken by the trailer's creators, and that grenades are exclusive to Rangers.[3] Except for Acid bomb that is literally a grenade.
References