Scars and Villainy
Scars and Villainy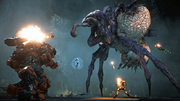 Overview
Requirements

Investigate the Scar camp
Reach the grotto
Investigate Blackshore
Find the poison source
Silence the relic
Find the source of the eggs
Defeat the swarm tyrant
Scars and Villainy is a mission in Anthem.
Briefing
Faye: "Now a second caravan's been hit."
Haluk: "Another one? Contract's getting fun now."
Faye: "You have the strangest sense of fun."
Player: "You guys starting without me?"
Haluk: "Freelancer! Time to get to work! Faye said these bastards made some kind of acid and they're using it as a weapon. Melted a couple of supply caravans."
Player: "Scars taking down whole caravans? Damn."
Haluk: "I know! Should make this a challenge, huh?"
Player: "I like a challenge."
Owen: "Who gets cypher duty?"
Haluk: "The chair is all yours."
Owen: "Yes!"
Haluk: "So, find where they're making this garbage and shut it all down. Piece of cake, right? Hahahahaha."
Requirements
Find the poison source

Follow the acid trail
Follow the trail underwater
Continue following the trail
Reach the overlook
Get a view of the valley
Find the source of the eggs

Find a way underground
Investigate the tunnel
Investigate the area
Quick walkthrough
The Player first goes to The Tower Road, where they dispatch a patrol of Scars. They make their way to an active Shaper relic in Monument Valley, where they must combat more Scars, collect emitted echoes of the Anthem of Creation and return them to the Shaper interface in order to silence the instrument. Afterward, a stronghold boss roars from the area below their position, and the Player ventures to meet the enemy head-on. Underground in The Hive, the Player must defeat a swarm tyrant to get rid of the eggs being used by the Scars to create their acid.
Comms
Player: "Owen? What's the plan here?"
Owen: "Picking up loads of Scars nearby. Take a look around the area, but be careful."
Owen: "Look at all the wyverns! Oh! And turrets! Better move quickly."

Owen: "There's acid here, but not much. They've got to be making it farther in."
Player: "Right. Checking out the Scar camp some more."
Owen: "There's a trail of this acid gunk leading down. Follow it, and we should find the source."
Owen: "Hang on. Something isn't right."

Owen: "There's a Shaper relic. Wait. Something's odd. Get a closer look, would you?"
Owen: "I don't know what they've done to that relic, but it's getting worse by the minute."
Owen: "See those radiant pieces of energy. They're echoes from the Anthem of Creation. Loads of Scars nearby. Be careful."
Owen: "Return them to the relic. You've got to silence it fast."

[Relic silenced.]
Owen: "It's gone silent! Disaster averted!"
Owen: "Do you think we get a bonus for... Wait, something's happening."

[Swarm tyrant roars from underground.]
Player: "What the hell was that?"
Owen: "I think... that was whatever laid all the eggs around here. The sound came from below your position."
Owen: "The Scars were using those eggs for something. Making acid, probably."
Player: "So the job's not done until we get rid of all the eggs."
Owen: "On the plus side, this definitely counts toward hazard pay."
Owen: "There's a trail of this acid gunk leading down. Follow it and we should find the source."

[The Player reaches The Hive.]
Owen: "What is that?"
Player: "You're supposed to tell me."
Owen: "Right. Just... be careful."

[Swarm tyrant appears.]
Owen: "That's... big. Very. Ah... good luck?"
Notes
This mission was presented at E3 2018 to showcase gameplay of Anthem.