Storm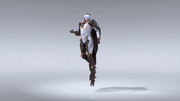 The Storm is one of several javelins used by Freelancers during their expeditions outside of Fort Tarsis. It is the most elemental of the javelins, and is capable of remaining in flight for much longer than the others. With its elemental power and minimal armor, the Storm has a reputation for being a tempestuous javelin that can spell disaster for even experienced pilots. But ask anyone who's survived a fight with one and they'll tell you that there's no doubting the strength of the Storm. Whether the Storm suits your style as a pilot, your needs for a particular mission, or just your mood that day, it's a great addition to your arsenal of javelins.
Abilities [1]
Javelin Weaponry
The Storm javelin is capable of wielding every weapon type except for Heavy Weapons (which can only be used by the Colossus javelin).
Melee Ability
Fiery Strike: The Storm uses the seals on its arm to deliver an explosive flash that deals damage and knocks back enemies that have gotten too close, giving the Storm time to reposition at a safe distance.
Kinesis Gear Abilities
The seals which are built into the Storm can use various gear to tap into the Anthem to release raw elemental energy in the form of kinesis abilities. Gear is picked up as loot during missions, and can be equipped or swapped out between missions. Lancers can equip three kinesis gear abilities total, one from each of the sections here.
Blast Seals
Lightning Strike: A targeted strike that deals lightning damage in an area.
Ice Storm: Creates a field of ice that deals damage, rapidly building to a final explosion of frost.
Flame Burst: A quick explosion that deals fire damage at a target location.
Frost Shards: Fires out a flurry of homing ice projectiles that deal damage and freeze close-range targets.
Living Flame: A burst of flame energy that seeks out and ignites targets.
Focus Seals
Frost Shards: Rapid-fire shards of ice that slowly freeze a target in place.
Burning Orb: A versatile fire ability that can be fired quickly in small shots or charged for a larger projectile that explodes.
Shock Burst: A discharge of electric energy that can be bounced off of walls to reach targets behind cover.
Glacial Spear: Fires a beam of powerful ice energy in a targeted direction.
Arc Burst: Unleashes a blast of lightning that will leap to nearby targets for heavy damage.
Support Seals
The Storm's support abilities play toward its strengths of damage evasion and damage output, helping allies stay safe and take down enemies faster.
Wind Wall: Generates a defensive wall of wind that deflects incoming enemy projectiles.
Quickening Field: Creates a field which provides gear cooldown reduction to teammates who enter its radius.
Ultimate Ability
Elemental Storm: Lancers can deploy a special ultimate ability that displays the true strength of their javelin exosuit. Manipulating the raw force of the Anthem, the Storm emits successive blasts of frost, electricity, and fire -- each with a devastating meteoric detonation.
Gallery
Notes
References