Swarm tyrant

It is too short to provide more than rudimentary information about a subject. You can help Anthem Wiki by expanding it.
Please remove this notice once this article has been properly expanded.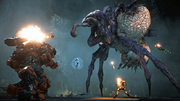 A swarm tyrant is an apex predator in the world of Anthem. It is also one of the Stronghold bosses you fight. The Swarm Tyrant boss fight has 3 phases; Normal, Minions, Swarm.