Ursix

It is too short to provide more than rudimentary information about a subject. You can help Anthem Wiki by expanding it.
Please remove this notice once this article has been properly expanded.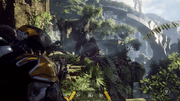 An ursix is an apex predator within the world of Anthem. A giant Ursix gets created from a Shaper relic ad almost eats the Freelancer One of its attacks are to throw rocks at the player.