World of Anthem/pt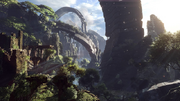 "... Um mundo interrompido no meio de sua criação."
O mundo de Anthem é atualmente um planeta sem nome[2] onde Anthem ocorre. Aproveitando o Anthem of Creation, os Shapers começaram a criar um mundo em nove dias, mas desapareceram após três, deixando apenas suas instruments.[3] O conflito resultante entre os instrumentos dos Deuses e o Hino causou um contínuo e violenta remodelagem do mundo. Desta forma, existem numerosos perigos no ambiente, como bestas primevas, saqueadores e world-altering events.
Humanidade foi isolada dentro do Fort Tarsis, protegida atrás das muralhas dos perigos do mundo além dela. Um grupo de heróis chamados Freelancers é responsável por deixar a segurança das muralhas e se aventurar nas terras perigoas, enfrentando threats e buscando levar a humanidade em diante.
Localidades
Regiões
Greater world
Hubs
Outros
Galeria
Referências